Efficient Ways to Auto Trailer Transport: Safely Ship Your RV and Travel Trailers with the Right Company
Choosing a trustworthy and effective RV transport service is a critical consideration when you need to move your recreational vehicle (RV) or travel trailer. You're not just moving an object; you're entrusting a company with a significant part of your lifestyle, perhaps even your home. This is where Exotic Car Transport comes into the picture, providing you with top-notch auto trailer transport services, ensuring your peace of mind during the transit process.
Whether you're relocating cross-country or preparing for an exhilarating camping experience at a new location, we understand that your RV or travel trailer isn't just a vehicle—it's a part of your life. That's why at Exotic Car Transport, we're committed to providing an RV transport service that's safe, reliable, and tailored to your specific needs. Our extensive experience and deep understanding of the nuances of RV shipping make us a trusted partner in your travel adventures.
We handle a wide variety of RV trailers and car trailers, from pop-up campers to full-size fifth-wheel trailers. Whether it's a compact travel trailer or a massive mobile home, we've got the expertise and equipment to handle your vehicle with utmost care.
When you choose Exotic Car Transport to have your RV transported, you're opting for a service that places a premium on safety and security. We follow stringent protocols to ensure your vehicle arrives at its destination in the same condition it was in when you left it in our care.
The Benefits of Using Auto Trailer Transport Services
Employing auto trailer transport services can provide a plethora of benefits, transforming what could potentially be a tiresome and stressful experience into a seamless and easy process.
A Stress-Free Experience
One of the primary advantages of using auto transport services is the elimination of the burden associated with driving your RV trailer or travel trailer over extended distances. It negates the need to navigate unfamiliar roads, battle long hours of driving, and handle the overall wear and tear on your vehicle. Instead, you can hand over the reins to professional experts in the transport field, allowing you to focus your attention on other crucial aspects of your trip or move.
Ensuring the Safety of Your Vehicle
Another major benefit is the assurance of your vehicle's safety. Professional transport services possess the required expertise and experience to securely load, transport, and unload your RV trailer. By employing a flatbed truck or lowboy trailer, experts use specialized equipment, understanding the dynamics of large vehicles like RVs and travel trailers. Moreover, they're familiar with the correct usage of ball hitches and securing techniques for different models, including the fifth wheel.
Precision and Care
Before loading your RV, professionals will inspect the RV prior to transport, noting any existing damage and ensuring that the vehicle is ready for transit. Once secured onto the truck or trailer, your vehicle is on its way to its new destination. Professional drivers are adept at handling large vehicles and are mindful of safe driving practices to ensure your RV or trailer arrives at the pick up location unscathed.
Choosing an auto trailer transport service can provide an array of advantages, from stress relief to guaranteed safety. So, if you're planning a move or a long-distance trip, consider the option of a professional service to safely transport your cherished RV or trailer.
Factors to Consider When Choosing a Trailer Transport Service
Selecting the right trailer transport service can seem daunting, but a careful consideration of several essential factors can guide you towards a decision that guarantees a safe and stress-free transport of your RV or trailer.
Licensure, Insurance, and Bonding
First and foremost, you must confirm that your prospective company is appropriately licensed, insured, and bonded. The presence of these service marks is indicative of a reputable company, adhering to industry standards and regulations. It also ensures that your RV or travel trailer is adequately protected should any unforeseen incidents occur during the transit.
Reputation and Customer Reviews
Next, consider the company's reputation. Online customer reviews and testimonials can provide a candid look into the experiences of past clients. Positive feedback and a consistent track record of safely delivering vehicles on time are strong indicators of a reliable and high-quality transport service.
Cost and Additional Fees
Of course, the cost of the service is a critical factor to consider. While it shouldn't be the sole determinant, achieving a balance between affordability and quality is crucial. Be sure to inquire about other fees that may not be included in the initial quote. A reliable company will be transparent about all costs, leaving no room for unexpected charges.
Type of Service
Consider your RV type and the nature of the service you require. Whether it's a tow-away service, flatbed transport, or specialized service for handling hazardous materials, it's vital to select a company that can cater to your specific needs. Be clear about all the details of your RV or travel trailer to ensure the company can accommodate them.
Choosing the right trailer transport service can indeed be a task, but it's a decision that can determine the safety and security of your cherished vehicle. By giving careful consideration to the factors outlined above, you'll be well-equipped to make a choice that offers both peace of mind and value for money.
Types of Trailers That Can Be Transported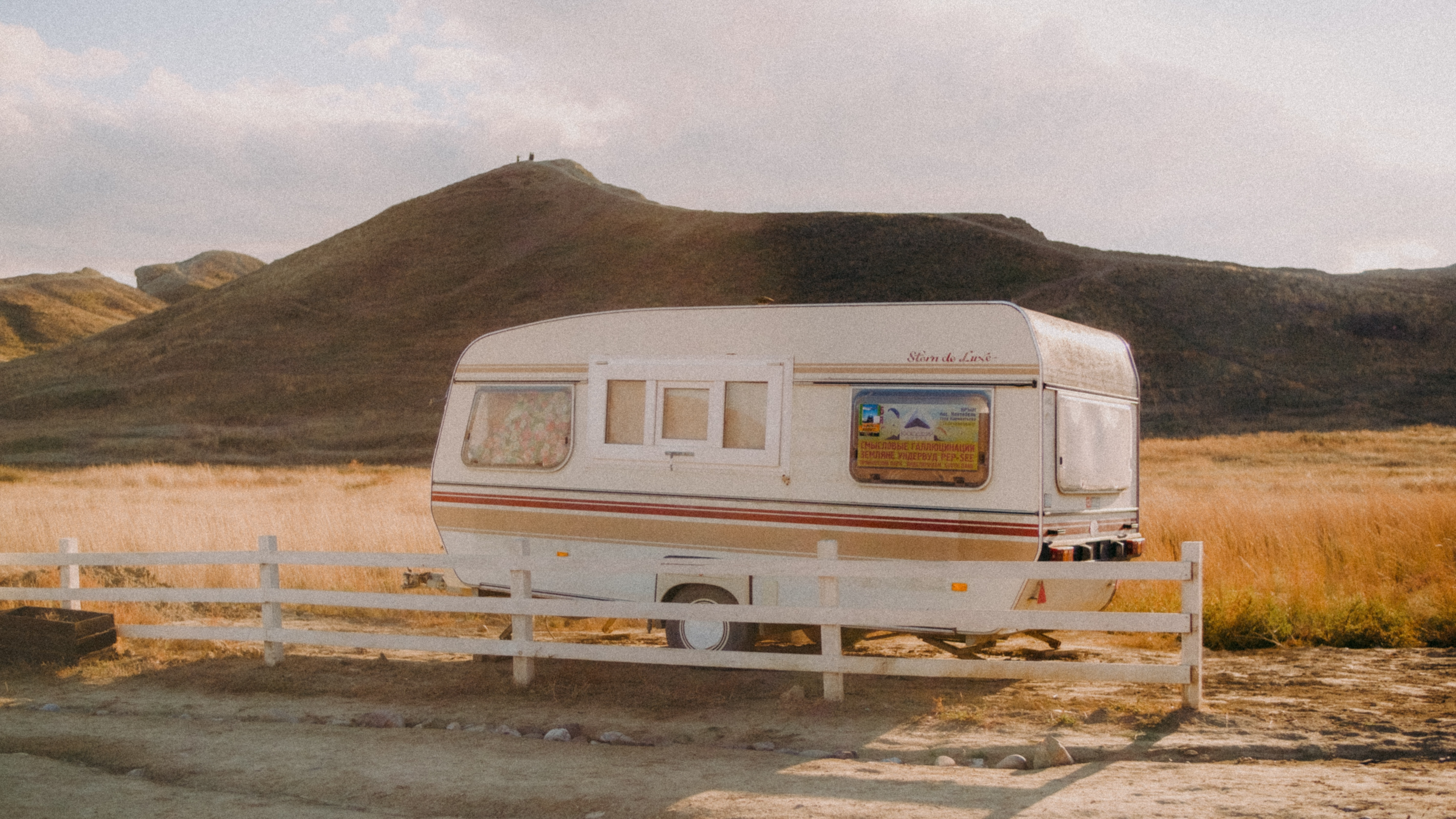 Auto trailer transport services can accommodate various types of trailers. Whether you have a recreational vehicle, travel trailer, car trailer, or cargo trailer, a reputable transport company will have the equipment and expertise to handle the transport.
Different trailers may require specific handling or loading techniques. For example, fifth-wheel trailers require a specialized hitch connected to the bed of a pickup truck. On the other hand, bumper-pull trailers are attached to the hitch on the rear of a vehicle. Understanding the specific requirements of your trailer will help you choose a transport service that can handle it efficiently.
How to Prepare Your RV or Travel Trailer for Transport
Before your RV or travel trailer is transported, it's crucial to prepare it properly. Begin by removing all personal items and securing loose items inside the vehicle. This ensures that nothing gets damaged or lost during transport. Secure cabinet doors and windows to prevent them from opening during transit.
Next, inspect your RV or travel trailer for any pre-existing damage. Take detailed photos or videos of the vehicle, documenting any scratches, dents, or other marks. This will serve as evidence in case of any disputes regarding damage during transport.
Finally, make sure the tires are properly inflated and the battery is fully charged. Disconnect any propane tanks and empty the water and waste tanks. Following these preparations will help ensure a smooth and hassle-free transport experience.
Understanding the Different Types of Transport Trailers
Auto trailer transport services use various types of trailers to transport vehicles. Flatbed trucks, lowboy trailers, and enclosed trailers are commonly used in the industry.
Flatbed trucks are versatile and can accommodate a range of trailer sizes and types. They provide an open-air transport option, suitable for recreational vehicles, travel trailers, and cargo trailers. Flatbed trucks are ideal for transporting larger vehicles and those with irregular shapes.
Lowboy trailers are specifically designed for transporting heavy and oversized trailers. They have a low deck height and are capable of carrying tall or wide vehicles. Lowboy trailers are commonly used for transporting specialized trailers such as construction equipment or large recreational vehicles.
Enclosed trailers offer maximum protection for your RV or travel trailer during transport. They shield the vehicle from the elements and provide added security. Enclosed trailers are a popular choice for transporting high-value or classic vehicles.
Safety Measures During the Transport Process
During the transport process, safety is of utmost importance. Reputable transport companies take several measures to ensure the secure transportation of your RV or travel trailer. They use professional loading and unloading techniques, securing the vehicle to prevent any movement or damage during transit.
Additionally, transport companies may offer insurance coverage for your vehicle during transport. It's important to understand the extent of the coverage and any limitations or exclusions that may apply. This will give you peace of mind knowing that your vehicle is protected throughout the transport process.
Important Considerations for Picking Up and Dropping Off Your Trailer
When arranging for the transport of your trailer, it's crucial to communicate with the transport company regarding pick-up and drop-off locations. Ensure that the locations are easily accessible and can accommodate the size of the transport vehicle.
During the pick-up and drop-off process, thoroughly inspect your RV or travel trailer for any damage. Compare its condition to the documentation you prepared before transport. If you notice any new damage, document it and notify the transport company immediately.
Additional Services Offered by Trailer Transport Companies
In addition to basic trailer transport services, many companies offer additional services to enhance the transport experience. These may include vehicle storage, expedited shipping, or door-to-door delivery. Discuss your specific requirements with the transport company to determine if they offer any additional services that align with your needs.
Tips for a Smooth and Hassle-Free Trailer Transport Experience
To ensure a smooth and hassle-free trailer transport experience, consider the following tips:
Research and choose a reputable transport company with experience in handling trailers.
Prepare your RV or travel trailer properly for transport, removing all personal items and securing loose items.
Inspect your vehicle for pre-existing damage and document it with photos or videos.
Communicate clearly with the transport company regarding pick-up and drop-off locations.
Thoroughly inspect your RV or travel trailer upon delivery and document any new damage.
By following these tips, you can have peace of mind knowing that your trailer will be safely transported to its destination.
Bottom Line- How to Transport Your RV?
Navigating the landscape of RV and travel trailer transportation requires careful consideration and precise decision-making. The paramount goal is to find an auto trailer transport service that prioritizes safety, efficiency, and customer satisfaction. These are the cornerstones upon which Exotic Car Transport has built its reputation.
At Exotic Car Transport, we specialize in providing a comprehensive range of trailer transport services. Our goal is to ensure the seamless, secure delivery of your precious cargo, from RVs to diverse travel trailers. Our commitment to service excellence is unwavering, as we understand the trust you place in us when handing over your vehicle.
Remember the factors outlined in this article when choosing a transport service: license and insurance, reputation, cost, and the specifics of your trailer type. These elements should guide your decision-making process, ensuring you find the best match for your transport needs.
Get in touch with us now to discuss your vehicle relocation.